Industrial Equipment Tracking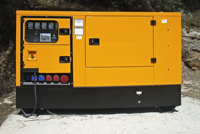 Industrial equipment tracking is supported by means of reckoning and reporting of the position of equipment itself. This approach leaves the task to compose a coherent depiction of the subsequent status reports.
The solution can report the arrival or departure of the object and recording the identification of the object, the location where observed, the time, and the status.
Generators and Solar Powered
The advantage of some generators and solar powered units is that they have much more power over their lifetime than battery powered units. This gives them the advantage to report their position and status much more often than battery units which need to conserve their energy to extend their life. Some wireless solar powered units can report more than 20,000 times per year and work indefinitely on solar power eliminating the need to change batteries.
Functional steps for tracking
Locate Your Equipment on Map : Visual map can help find and track your shipment easily
Track Equipment on GPS : The most effective GPS tracking fleet management solutions for various kind of shipment.
No Size and Type is Matter: Track any size and any type of shipment.
Systematic Inventory Tracking : Our industry leading inventory tracking system helps organizations keep tracking their critical shipment delivery.
Features
Main Power Battery Failure
Backup Battery Failure
Starter Status on time
Enable / disable remotely for the equipment
Add-On Sensor Integration
Temperature over heating (Option)
Fuel Control
Fuel Level Monitoring
Base Station (Self-Monitoring).
Secured Geo-Fencing and recovery the equipment
Customized Geo-Fencing
POI (Point of Interested).
Web Access
24/7 Call Center Support and services
Daily Device Response and reports
Fatigue alerts
GSM/GPRS Tracking
Benefits
Asset tracking: Companies needing to track valuable assets for insurance or other monitoring purposes can now plot the real-time asset location on a map and closely monitor movement and operating status.
Tracking equipment and services that help improve performance and cut costs, no matter what industry you serve. Whether you are a business owner looking to control inventory and employee time, or you are a dispatcher interested in an easy-to-use, easy-to-integrate vehicle tracking system, Track Your Equipment can assist you find a simple and effective solution.
Speeds up cash flow and makes it easier to collect for metered usage on periodic billings.
Avoid end-of-rental customer disputes and write-offs over usage charges that seem too high because they weren't collected periodically.
Reduce transportation and labor costs by reducing the number of on-site trips to collect meter readings and verify equipment location