Cold Chain Management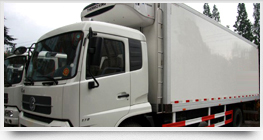 A cold chain is a temperature-controlled supply chain. An unbroken cold chain is an uninterrupted series of storage and distribution activities which maintain a given temperature range. It is used to help extend and ensure the shelf life of products such as fresh agricultural produce, seafood, frozen food, photographic film and chemicals.
A cold chain can be managed by a quality management system. It should be analyzed, measured, controlled, documented, and validated.
WHO SHOULD ATTEND IN SECTOR
Food and DAIRY Processing Distribution, Logistics and Supply Chain Managers and Director Levels.
Food and DAIRY Processing Quality Control and Assurance Managers and Director Levels.
Logistics Providers and Transport Company Personnel.
Food and DAIRY Service Distribution Companies Operations, Logistics and Quality Personnel.
Specialty Foodservice Retail Operations, Distribution and Quality Personnel.
Features
Main Power Battery Failure
Backup Battery Failure
Ignition Status
Add-On Sensor Integration
Circuit Temperature over heating (Option)
Engine/Fuel Control (Option).
Fuel Level Monitoring (Option).
Base Station (Self-Monitoring).
SMS/GPRS.
Positions on Call.
Secured Geo-Fencing
Customized Geo-Fencing
Driver Behaviors Alerts (speeding, harsh breaking, harsh acceleration and idling) .
Door Status (Option).
POI (Point Of Interested).
Web Access
24/7 Call Center Support and services
Daily Device Response and reports
Two Way Voice communication
Fatigue alerts
Benefits
Remote Real-Time Monitoring

See your fleet's activity in real-time no matter where you are
Monitor detailed information on your crews
Dispatch the closest vehicle to an address, landmark, or another vehicle in the field and communicate thru 2-way messaging via a Garmin

Keep Your driver Safe

Quickly respond to emergency situations with precise location data, dispatch, and effective communication
Make sure crews are not working excessive hours and over exhausting themselves, which could be dangerous
Driver behavior monitor driving habits such as speeding, excessive idling, unauthorized usage, and harsh breaking and fast acceleration
Recover stolen vehicles and assets quickly and easily.

Increase Productivity

Shorten response times by deploying the nearest vehicle.
Eliminate location status calls to drivers.
Increase your daily productivity as well as the productivity of your fleet.
Knowing the real time status of every vehicle at all times.

Improve Customer Service

Quick response times.
Proof of services rendered.
Accurate delivery times.

Reduce Operating Expenses

Keep up with vehicle maintenance.
Stay current with registration and tags.
Potentially reduce insurance costs.
Maintenance Alerts.
remind you of renewing registrations.

Increase Fleet Security & Safety

A fuel outage.
Emergency service needed.
A vehicle gets stolen.